You know that feeling you get when something triggers a memory and you're suddenly transported back to your childhood? 
It can be something as simple as the smell of bubblegum, for me it was a little Italian recipe book from Bertolini that my mom has had for years.  I was over my moms the other night and I asked her for her apple cake recipe or torta di mele.  She then came back with this little recipe booklet that I haven't seen in years. 
Aside from the great recipes it holds, the one thing I remember most is the story at the end of the booklet, the story of Maria Rosa. As a child I used to beg my mother to read it to me over and over again, I loved the characters, the pictures and of course the story.   Flipping through the pages I felt like a little girl again in my mother's kitchen, I almost asked her to read it to me …almost.   The booklet itself according to my mother is 40 years old and she has kept it in pretty good condition.  I asked her to borrow it so that I can scan it to have a copy for myself (not sure if I am breaking any copyright laws here, no copyright notice on the booklet itself).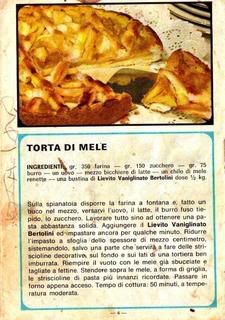 The first recipe I made was the Torta Di Mele or Apple Cake.  My mom has been making this for years and everyone who tastes it asks for the recipe.  Continue reading →